55+ apartments, also known as independent living, can be an excellent option for older adults looking to enjoy their freedom years. With a variety of services and programs, 55+ communities hold plenty of appeal to anyone who wants to get the most enjoyment out of every day! But any move raises a lot of concerns and questions.
Our list of potential pros and cons may help ease that stress and ensure you're confident when taking this exciting step.
What Is a 55+ Apartment?
A 55+ apartment caters to people 55 years of age or over who value independence, comfort, and high quality of living. These communities are often referred to as independent living.
Your experience will feel different in every community. At Bluff View Estates, we focus on:
Enriching experiences
A healthy lifestyle
Stress-free living
Pros
There are so many benefits to independent living communities! Your experience in a 55+ community can be enriching and rewarding if you choose to take advantage of all there is on offer.
Care-Free Lifestyle
When you think of a leisurely and relaxing life, we're guessing grocery shopping, traveling to and from appointments, mowing the lawn, and shoveling snow aren't the first things that come to mind. In an apartment designed for independent living, all those tedious household tasks are handled for you! Let someone else manage maintenance while you spend time on things that bring you joy and fulfillment.
On-Site Services
For a lifestyle focused on enjoyment and satisfaction, convenience is key! Independent living is designed with you in mind, and these vibrant communities are often have readily available services, including:
On-site concierge service
Optional housekeeping
Fitness amenities
Activities for recreation, education, and more!
New Social Circle
In an independent living community, you'll get to widen your social circle with new neighbors! It's the best of both worlds with the privacy and comfort of your own suite and companionship just outside your door. Not only does independent living help stave off loneliness, but all that socializing could have a positive effect on your health, too! Independent living communities have many common spaces to mingle and relax, such as:
Rooftop patio
Social rooms
Fireside lounge
Theatre room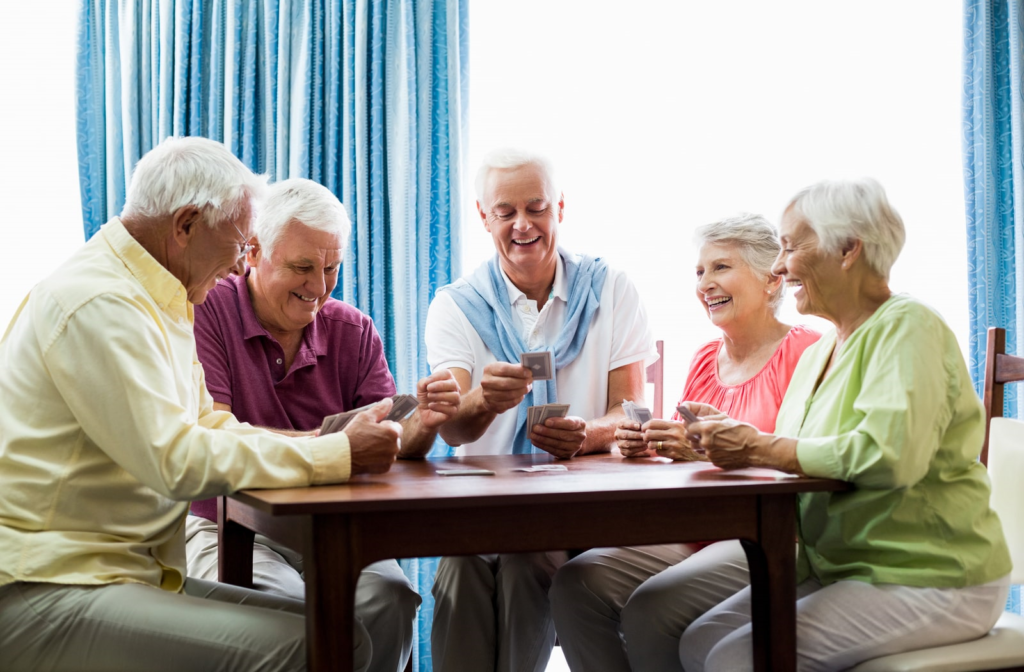 Safety and Security
You're in good hands with dedicated 24-hour security. Sleep soundly knowing your community is well-protected. Even your vehicle will be secure in a heated parking garage.
Keep yourself safe with a care team on site. Should you have an accident or a fall, help is always nearby.
High-Quality Environment
Keeping everything top-of-the-line helps keep you comfortable. In your private apartment, you'll have luxury amenities, including:
Full kitchens with all appliances
Custom blinds
Private laundry
Independent temperature controls
Tasteful furnishings
Everything from the individual suites to the well-kept grounds to the experienced staff on hand is geared towards ensuring you have a pleasant experience!
Age In Place
Should your care needs change, over time or suddenly, the last thing you want to do is search for new living arrangements. In many dedicated senior living communities, assistance is available on-site at different levels. By making the move to a senior living community soon, you stay in control of your living situation, no matter the situation!
Cons
Despite the many advantages to 55+ apartment communities, there may be some other considerations worth noting.
Not Able to Bring Pets
Many independent living facilities don't allow animal companions, be they furry, scaly, or winged. Be sure to contact the community you're interested in to confirm their pet policy.
Adjusting to Apartment Living
Living in an apartment has plenty of advantages. Still, it may be a change for anyone used to living in a single-family home. Having people living above and below you can take some getting used to. However, transitioning to apartment living can give you a sense of freedom. Take a peek at our variety of unique floorplans! One might fit your taste and give you the space you desire!
Narrower Age Demographic
Moving from the wider community into an independent living community provides a peer group within a similar age range. Your current home may be in a neighborhood full of younger families and children. In that case, a 55+ apartment will likely have a different feel. But with a group of unique neighbors, visits from family and friends, and plenty of activities, you don't have to worry about feeling apart from the larger community.
Build Your Own List!
Of course, this list of pros and cons can't cover everything you're considering. Your living experience is as unique as you are. We welcome and honor the differences that make us a vibrant community. Contact us if you're ready to explore all the exciting new opportunities that come with an independent living community!