Retirement can feel incredibly liberating after years of hard work and dedication to a career and family. It's a time when older adults can finally enjoy life on their terms—at home or as part of an independent living community such as Bluff View Estates.
Sometimes, navigating this new phase of life can be overwhelming too. With so much time on their hands, it can be difficult for retired adults to decide what to do. Independent living can help older adults fill their time with activities and amenities—without worrying about cooking, cleaning, or daily chores.
Some of the Bluff View Estates activities recommended for retired adults include:
Traveling in your local community
Volunteering in your local community
Taking up a new hobby
Spending time with family and friends
Learning a new language
Pursuing fitness and wellness
Joining a book club
Joining a social group
Gardening
Writing
Taking a cooking class
Volunteering at a library
Starting a small business
Bird watching
Attending lectures and seminars
Participating in community theater
Joining a sports league
Attending music concerts
Learning to play a musical instrument
How to Spend Time After Retirement
Finding activities that are fulfilling and enjoyable can be vital for enjoying retirement. There are plenty of options. Exploring all the choices available can help retired adults and their families find activities that support personal strength, purpose, and belonging later in life.
Travel in Your Community
Retirement can be the perfect time to rediscover your local community. Whether you're exploring new areas or revisiting old favorites, local travel can help create new memories and broaden horizons for older adults and their families.
Volunteer in Your Community
Giving back to your community through volunteer work can be a rewarding and fulfilling way for older adults to spend time in retirement. Plenty of organizations could use support, from local food banks to animal shelters.
Take Up a New Hobby
Retirement can be the perfect time to explore new interests and hobbies, such as painting, knitting, golfing, cooking, or pursuing a new passion. A hobby can help keep your mind and body active.
Spend Time with Family & Friends
Retirement can be an excellent opportunity to reconnect with loved ones. Scheduling regular visits, dinners, and outings with family and friends can help older adults stay social and engaged.
Learn a New Language
If you or a loved one has always wanted to learn a new language, retirement can be the perfect time to start. Not only can learning a language be a fun and challenging way to spend time, but it can also keep your mind sharp and improve cognitive function.
Pursue Fitness & Wellness
Taking care of physical and mental health is incredibly important in retirement. Whether it's through yoga, Pilates, swimming, or walking, finding a fitness routine that works can help older adults enjoy retirement while maintaining their overall health.
Join a Book Club
For those who love literature, joining a book club can be a great way to connect with others and engage in intellectual discussions during retirement. You can also discover new books you might not have considered reading before.
Join a Social Group
Retirement can sometimes feel isolating, so seeking out social groups can be a great way to stay connected with others. Whether it's a hiking group, a church group, or a knitting circle, finding like-minded individuals can help older adults form lasting connections.
Take Up Gardening
Gardening can be a calming and rewarding hobby that can help older adults be active and engaged. Whether you're growing vegetables, herbs, or flowers, gardening can help people connect with nature and find a sense of purpose.
Try Your Hand at Writing
Retirement can be an excellent time for older adults to explore their creative side. Writing can be a great outlet for self-expression that helps keep your mind sharp. Older adults might enjoy writing a memoir about their life experiences or starting a blog. Finding a voice can be a rewarding experience.
Take a Cooking Class
If you are a food lover or a novice chef, taking a cooking class can be a fun and delicious way to spend your time in retirement. Not only can older adults learn new skills and techniques at a cooking class, but they also get to enjoy the fruits of their labor.
Volunteer at a Library
Consider volunteering at a local library if you enjoy books and want to give back to your community. Older adults can help with shelving inventory and even lead reading groups for children.
Start a Small Business
Retirement can be a great opportunity to start a small business. Whether you're selling handmade crafts or starting a consulting business, starting a small venture can help you stay engaged and productive.
Take Up Bird Watching
Bird-watching can be an educational hobby that helps older adults connect with nature. All you need is a pair of binoculars and a field guide to spot different species in the area.
Attend Lectures or Seminars
Retirement can be an ideal opportunity to continue learning and expanding new horizons. Attending lectures or seminars on topics that interest you can help you stay engaged and sharpen your mind at any age.
Participate in Community Theatre
For those who have a love of acting, singing, or dancing, participating in community theater can be a great way to stay engaged and make new friends.
Join a Sports League
For older sports fans, joining a local league can be a great way to stay active and connect with others. Whether it's softball, pickleball, or bocce ball, there are plenty of clubs available for retired adults.
Attend Music Concerts
For older music lovers, attending music festivals and concerts can be a fun and exciting way to spend your time in retirement. From jazz to bluegrass to rock and roll, there are festivals that cater to every taste.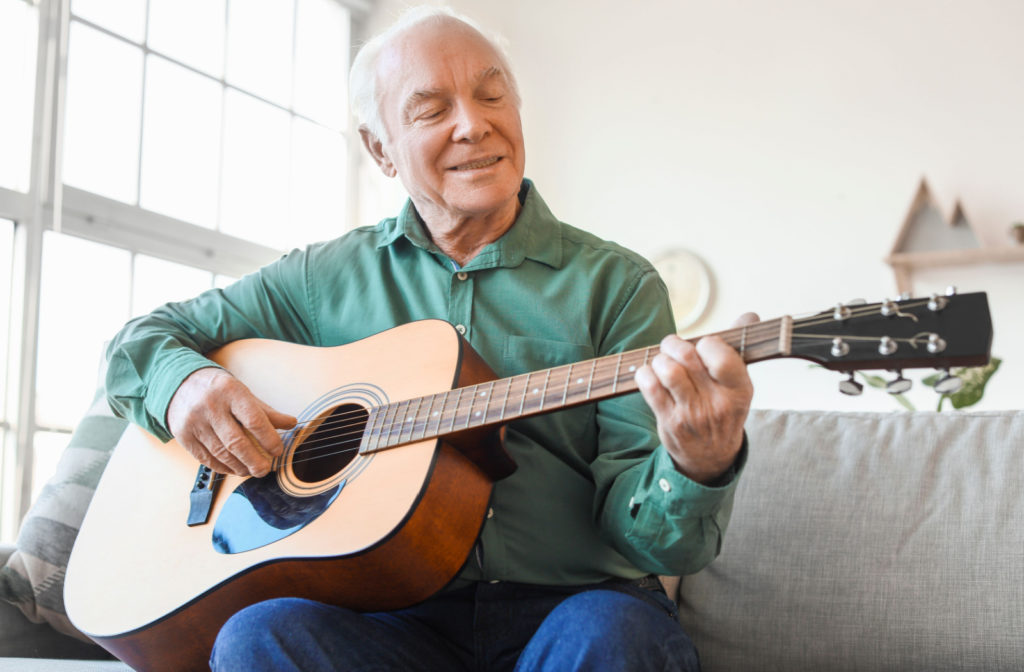 Learn to Play a Musical Instrument
Retirement can be a great time to pick up a new skill, like learning to play a musical instrument. Pluck the guitar strings, play the piano, or strum the ukulele—playing music can be a fun and therapeutic way to spend your time.
Helping Older Adults Enjoy Retirement
Retirement should be a time to relax, explore, and enjoy all life offers. The possibilities are endless when it comes to activities for older adults to discover during retirement. Independent living at Bluff View Estates can help older adults enjoy their golden years with relaxing, serene settings and engaging experiences.
Schedule a visit to explore our community and learn more about independent living.